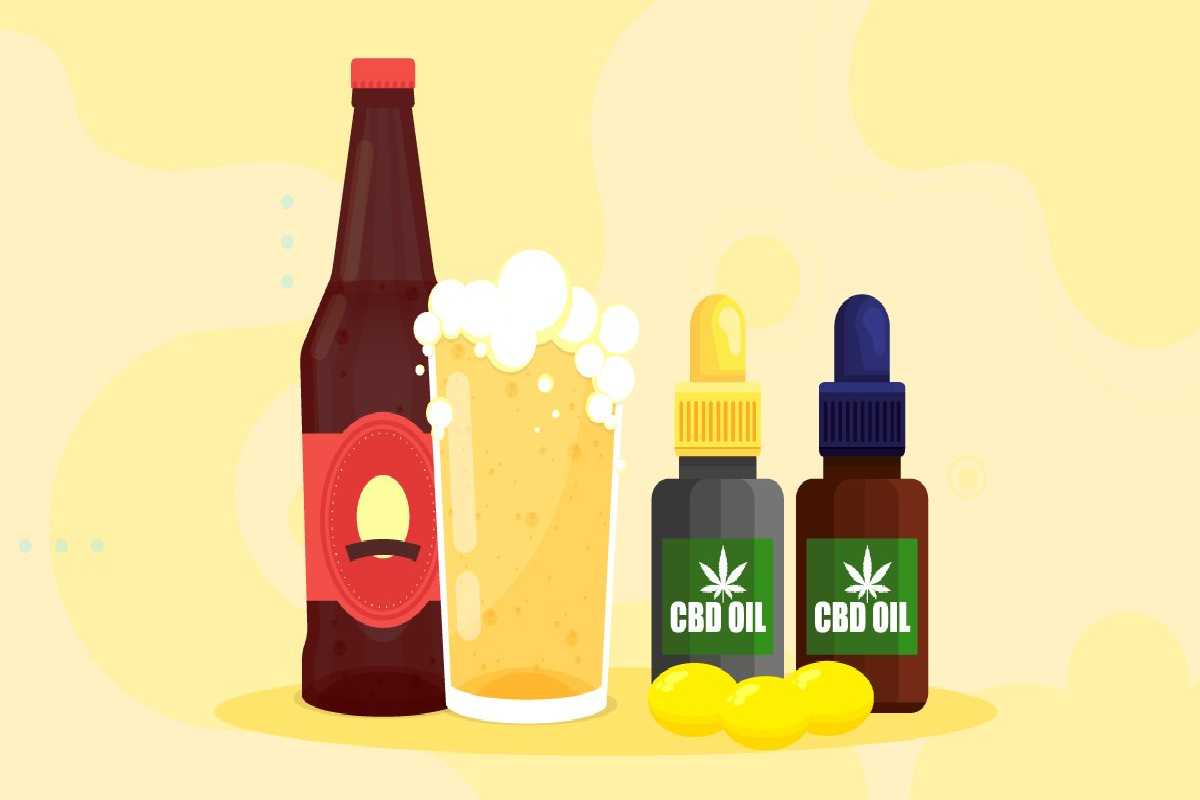 Alcohol And CBD
Alcohol And CBD: In addition to its alleged health advantages, the popular chemical cannabidiol (CBD) is present in hemp plants and may help reduce anxiety, enhance sleep, and relieve pain. According to a recent Forbes Health study of 2,000 U.S. adults, 60% of participants had used a CBD product, and 64% believed it to be safer than alcohol.
Both hemp and cannabis sativa plants, which also contain detectable levels of delta-9-tetrahydrocannabinol, can be used to make CBD (delta-9 THC). The primary cannabis compound that produces intoxicatingly euphoric effects is delta-9 THC.
There is a paucity of research on the effects of CBD and alcohol in people. As a result, when choosing whether to combine CBD and alcohol, customers typically have access to minimal information.
Alcohol and CBD's Impact on the Body
Although taking either substance can have comparable effects, such as drowsiness or sedation, alcohol and CBD have different impacts on your body.
Alcohol enters your system fast after consumption, and its effects might start to manifest in as little as 10 minutes.
The Alcohol alters how your brain works, potentially affecting your coordination and mental clarity as well as your mood and behaviour.
Alcohol consumption can influence your speech, memory, and judgement depending on how much you consume. Alcohol use might alter your balance and increase your chance of falling and suffering other injuries.
CBD doesn't have intoxication qualities as alcohol does. Instead, CBD works with the endocannabinoid system (ECS) of your body, which includes receptors all over—particularly in the central nervous system—to generate a range of possible effects, such as:
A reduction in central nervous system activity
A lessening in the signs of anxiety
A rise in sleeping quality
A reduction in the symptoms of chronic pain
However, some of the outcomes could be less desired, such as:
Drowsiness
Fatigue
Sedation
Nausea
Diarrhea
Lightheadedness
Vomiting
What Can Occur When CBD and Alcohol Are Mixed?
The effects of combining alcohol and CBD are unknown because there is little study on possible interactions between the two compounds. According to John Mendelson, M.D., chief medical officer and founder of San Francisco-based Ria Health, which provides a medication-based strategy to drinking moderation and alcohol abstinence, potential interactions are also dependent on factors like how much of each you consume and the amount of THC present in the CBD product.
When you drink, THC may interact with alcohol depending on the dosage, according to Dr. Mendelson. But there isn't enough data to know how alcohol might interact with the THC found in CBD products.
Eloise Theisen, a nurse practitioner and the chief nursing officer at Leaf411, an online consumer resource on how to use cannabis safely and effectively, explains that the 0.3% THC allowed in hemp-derived CBD products "may go up to quantities in the end product that may produce an interaction." In some concentrated hemp CBD products, we find THC levels of 1 to 4 milligrams.
The federal Agricultural Improvement Act of 2018 (Farm Bill of 2018) places a 0.3% by dry weight THC limit on CBD to prevent it from being labelled as cannabis, which is a Schedule 1 drug under the Controlled Substances Act. On the certificate of analysis (COA) for a CBD product. Which is often made available on the manufacturer's website, THC levels are frequently listed.
However, since the FDA does not regulate CBD products, you must rely on company claims and the findings of independent laboratories to estimate the levels of THC in particular CBD products. The FDA has only approved Epidiolex, a prescription medication used to treat specific types of seizure disorders.