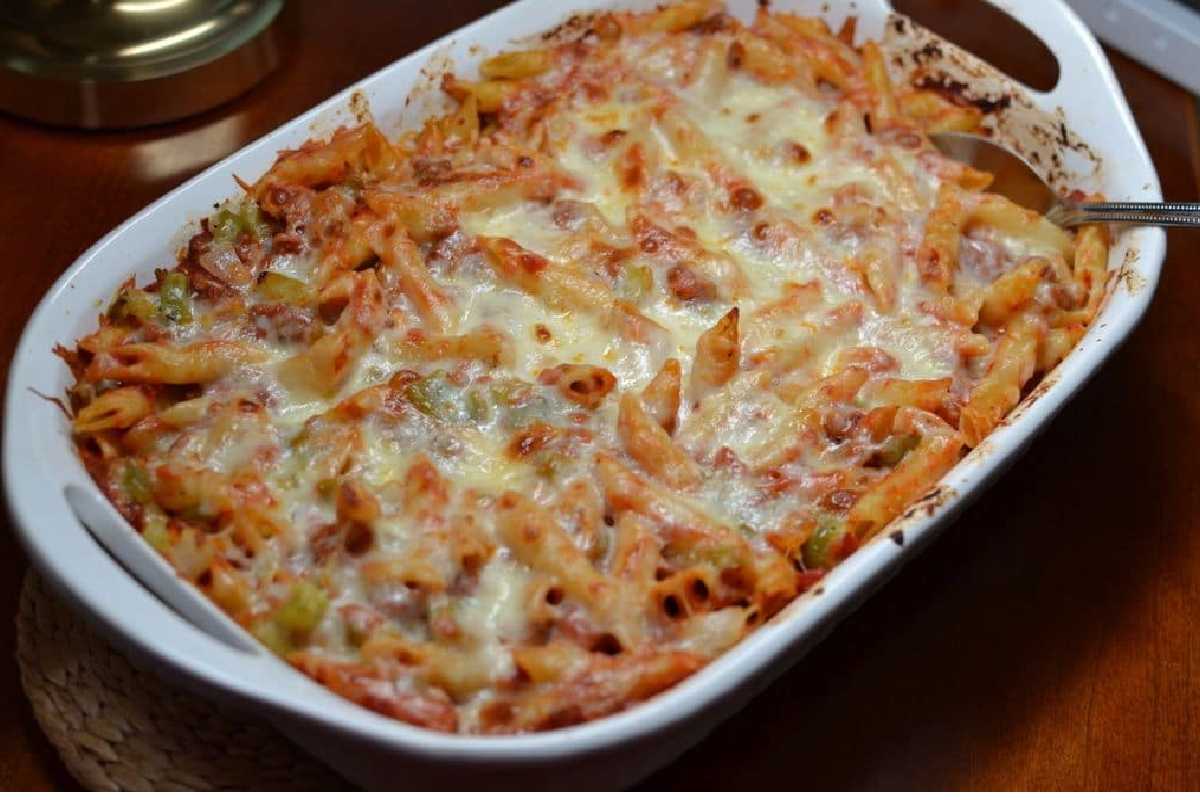 It's time to get acquainted with mostaccioli if you don't already know them. The hearty, popular dish is loaded with sweet Italian sausage, melted cheese, tender pasta, marinara sauce, and other favourites. You can prepare it for supper, prepare it in advance for the week, or bring it to a potluck.
Ingredients
1 medium onion, yellow
3 garlic cloves
2 ounces of finely grated Parmesan cheese (approximately 1/2 cup)
2 cups of shredded (8 ounces) full-fat, low-moisture mozzarella cheese divided
Olive oil, two tablespoons
1 pound of bulk, uncooked, sweet Italian sausage
A quarter-teaspoon of red pepper flakes
One jar of marinara sauce (approximately 24 ounces).
12 teaspoons of kosher salt + additional salt for the pasta
freshly ground black pepper, half a teaspoon
1 pound of dried penne or mostaccioli pasta
One big egg
Whole-milk ricotta cheese in 1 1/2 cups
12  fresh basil leaves
Preparation Of  Mostaccioli
Set a rack in the centre of the oven and preheat it to 375 degrees. Over medium-high heat, bring a sizable pot of generously salted water to a boil. While waiting, thinly slice 1 medium yellow onion (about 1 cup). Three garlic cloves, minced (about 1 tablespoon). Grate 2 ounces of Parmesan cheese (approximately 1/2 cup) in the tiniest holes of a box grater and 8 ounces of mozzarella cheese in the largest holes (about 2 cups).
In a large Dutch oven or saucepan with a thick bottom, heat 2 tablespoons of olive oil until it shimmers. Add 1 pound of sweet Italian sausage; remove casings before cooking if necessary. Cook, breaking up sausage into small pieces with a wooden spoon or spatula, until browned and cooked through.
Stir together 1 (approximately 24-ounce) container of marinara sauce, 1/2 tsp. Kosher salt, and 1/2 tsp. Black pepper. While the pasta cooks for 10 to 15 minutes, turn the heat to low and let the sauce simmer.
Add the pasta to the boiling water and cook for 3 minutes less than al dente, 6 to 7 minutes for mostaccioli, or as directed on the box. In the meantime, combine the parmesan, 1/2 cup of mozzarella, 1 big egg, and 1 1/2 cups of ricotta cheese made from whole milk in a medium bowl.
Drain the Pasta and add to the sauce saucepan. When the pasta is thoroughly covered in the sauce, turn off the heat and toss one more. Spread the spaghetti into an equal layer in a 9 × 13-inch baking dish. Place the remaining mozzarella over the top and equally distribute the ricotta mixture.
Bake the cheese uncovered for 30 to 40 minutes or until it turns golden brown. Allow 10 minutes for cooling.  Tear 12 fresh basil leaves and scatter over the mostaccioli as it cools.
Storage:   You can store the Leftovers in the refrigerated in an airtight container for up to 3 days.