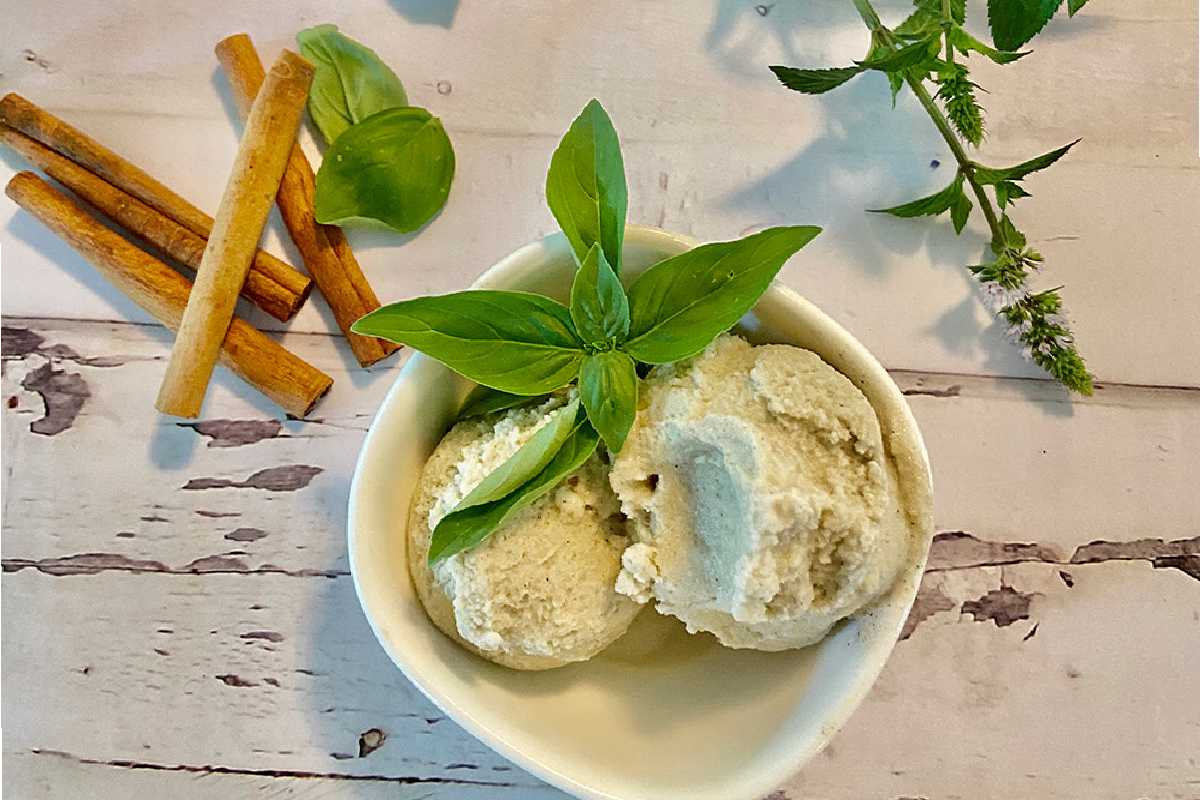 What are Herbal Ice Creams?
Medical herbs are used to make herbal ice cream, which demonstrated textural qualities. We can utilize a variety of herbs for these ice creams, including basil and mint, which have increased dairy frozen product textural quality. The goal is to determine the cohesion, consistency, and viscosity of herbal powder inclusion in ice cream as determined by a texture profile analysis device. The results showed that adding 1%, 2%, 3%, and 4% of the herbs used in the selected ice cream produced the best cohesion, consistency, and viscosity of the herbal ice cream, as opposed to using no herbs at all. This method of making icecream exposed it to the sensory qualities of herbal icecream.
Cinnamon and Basil Ice Cream
Ingredients
One and a quarter cups of whole milk
12 leaves of fresh basil
1-stick of cinnamon (3 inches)
50 g of sugar
4 big, lightly beaten egg yolks
heavy whipping cream, 3/4 cup
a smidge of vanilla extract
optional cinnamon powder
Directions
Heat the milk to 175 degrees in a small saucepan. Add cinnamon stick and basil after turning off the heat. 30 minutes of steeping under cover. Remove the basil and cinnamon sticks, then strain.
Stir the sugar until it dissolves and turn the heat back on. Egg yolks are given a quick stir with a little of the hot mixture. Return everything to the pan and whisk continuously. Stirring continuously, cook and cook over low heat until the mixture is just thick enough to coat a metal spoon and a thermometer registers at least 160°. Don't let it come to a boil. Remove right away from heat.
Transfer quickly to a sizable bowl, then put the bowl in a pan of ice water. Until cool, about 5 minutes, stir gently and occasionally. Add cream and vanilla and stir. The custard's surface should be covered with plastic wrap. For several hours or overnight, refrigerate.
Using the icecream maker, fill the cylinder no more than two-thirds full and freeze according the manufacturer's instructions. (Keep any leftover mixture chilled until you're ready to freeze.)
Fill freezer containers with ice cream, leaving space at the top for growth. Freeze for 2-4 hours, or until firm. Sprinkle with ground cinnamon, if preferred.
How to Store The Ice Cream
You can  store the herbal cinnamon and basil ice cream in an glass air tight container or a plastic container. This will keep the icecream fresh for upto two to three weeks. It is best to eat the ice cream within a week or two.
Also read – https://herbalrelm.com/2022/11/05/health-benefits-of-kava/ ‎