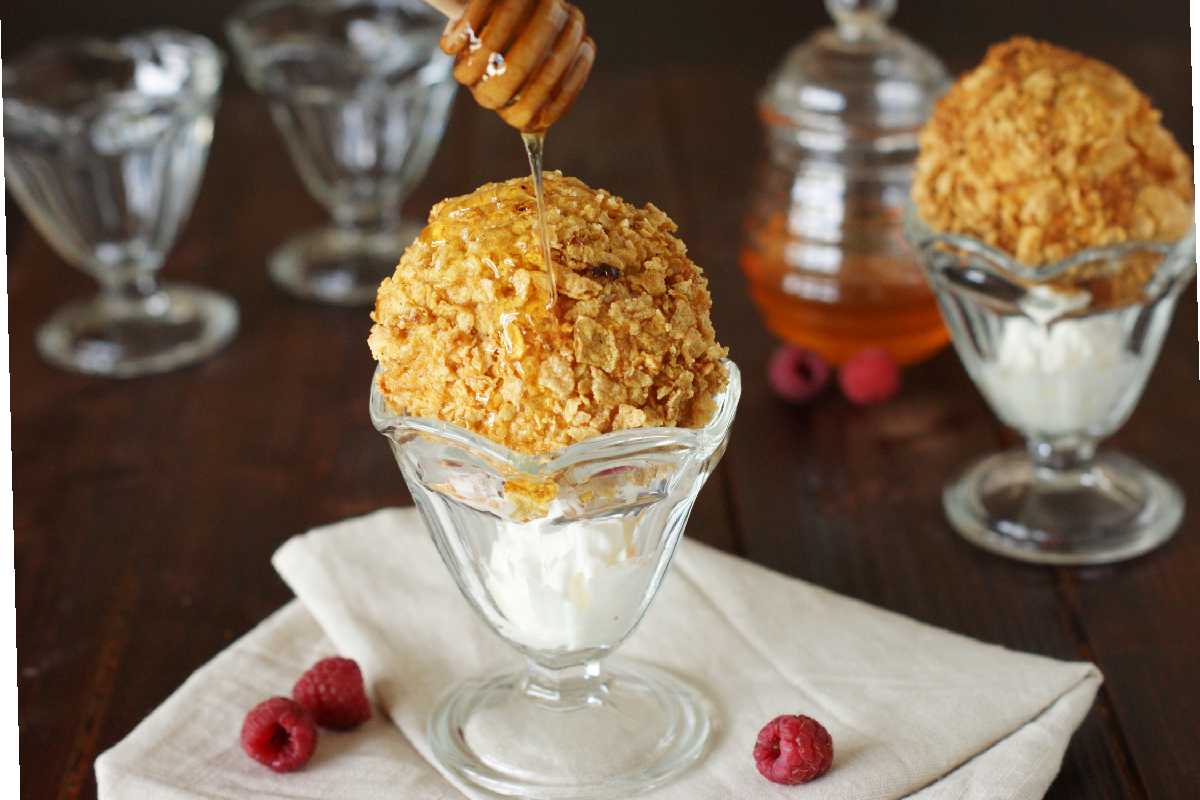 Fried ice cream is one of the best treats. We all enjoy the contrast between the hot, crunchy coating and the cold, frozen ice cream. While making it at home can be challenging, this recipe delivers all the flavor and crunch of conventional fried ice cream without deep-frying mess or splattering oil. The ice cream balls can be made one to two days in advance. All you have to do is fry them straight from the freezer and serve.
How to Make Fried Ice Cream Without Any Frying
To achieve the light texture of authentic fried ice cream, we're utilizing an oven-baked mixture of crushed cornflakes, brown sugar, spices, and melted butter in this recipe. Use ice cream from a premium brand because of the consistency's propensity to maintain its form.
After rolling the ice cream balls in the cereal mixture to coat them, put them back in the freezer to harden. Enjoy the ice cream balls, or amp them up by adding chocolate sauce and just-whipped cream.
The coated ice cream balls can be made up to 48 hours in advance if you're preparing this as a party dessert: They may freeze quickly on a baking sheet wrapped in plastic wrap.
Ingredients to make Fried Ice Cream
32 ounces of vanilla ice cream, 4 cups.
3 cups of crushed Corn Flakes cereal
1⁄4 cup thinly consolidated light brown sugar
2 teaspoons of cinnamon powder
1/4 teaspoon of nutmeg, ground
pinch of salt, fine
1 stick (8 tablespoons) unsalted butter
Vanilla extract, 1 teaspoon
Whipped cream and chocolate sauce for serving (optional)
Instructions
1. Set a rack in the center of the oven and turn the temperature to 350 degrees. Prepare two baking sheets by lining them with parchment paper. Scoop 8 equal-sized balls of the 4 cups of vanilla ice cream (approximately 1/2 cup each) and place them on one of the prepared baking sheets. After about an hour, freeze until stiff. While the ice cream freezes, prepare the coating.
2. Crumble the three cups of cornflakes. 1/4 cup gently packed light brown sugar, 2 teaspoons of ground cinnamon, 1/4 teaspoon of powdered nutmeg, and a dash of salt are added to the mixture and stirred until thoroughly blended.
3. 1 stick of salted butter should be melted. Toss the cereal mixture to distribute the butter and 1 teaspoon of vanilla extract evenly. Spread into an equal layer on the second baking sheet after transfer. Bake for about 10 minutes, stirring once or twice, until golden brown. Transfer to a clean bowl after allowing it to cool completely.
4. After coating them with the grain mixture, roll the ice cream balls back onto the baking sheet. Before serving with whipped cream and, if wanted, a sprinkle of chocolate sauce, freeze for at least 30 minutes