Giloy – The Ultimate Immunity Booster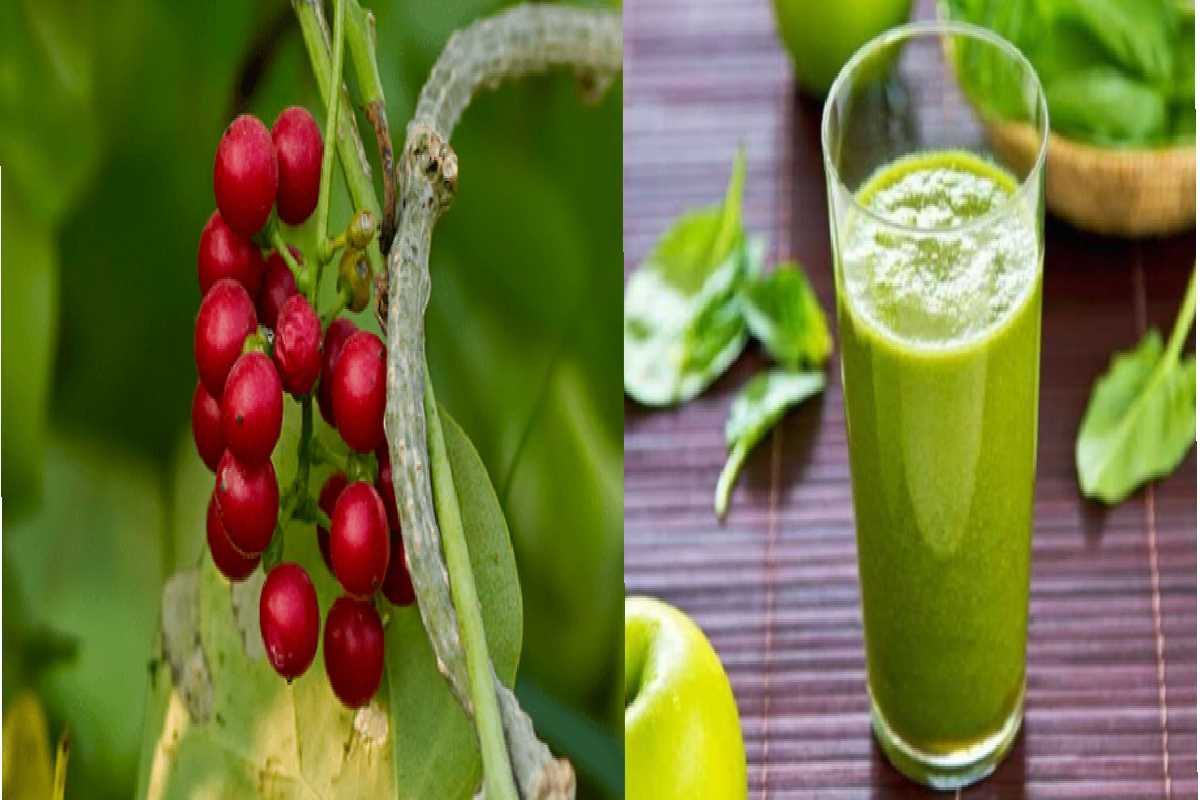 Giloy is regarded as one of the best medicines in Ayurveda for treating various fevers and other disorders. One of the three Amrit plants is Giloy. "The root of immortality" is what Amrit implies. As a result, it is also known as Amrita or Amritavalli in Sanskrit.
What is Giloy?
The botanical name for giloy is Tinospora cordifoia, Guduchichi in Hindi.
Because of its high nutritional value and alkaloids, the stem of the Giloy is thought to be particularly useful.
while the root and leaves can also be used.
It is one of the primary bitter-tasting plants.
it cures various illnesses and the vata and kapha doshas.
Due to its scarlet fruit and heart-shaped leaves, giloy is also known as Heart-leaved Moonseed.
Medicinal properties of Giloy?
Because of its high nutritional value and the alkaloids, glycosides, steroids, and other substances, it contains, the stem of the this is thought to be particularly useful; however, the root and leaves can also be employed.
These ingredients are useful against various illnesses, including diabetes, cancer, neurological issues, fever, etc.
How To Consume?
It can be eaten in a variety of ways according to Ayurveda, including as a powder, kadha (decoction), or even juice. These days, it can also be purchased as powder or capsules. It is also used topically as a paste for skin issues.
Health Benefits of Giloy
It is a Strong immune system booster, anti-toxic, antipyretic (reduces fever), anti-inflammatory, and antioxidant. Classical medicine is the best treatment for all medical anomalies.
1.  Giloy for persistent fever
According to Ayurveda, two things might cause fever: Ama, toxic byproducts of faulty digestion, and foreign particles. Giloy works well for persistent, recurrent fevers. It is an anti-inflammatory and antipyretic plant that aids in boosting your resistance to infection and aids in a speedy recovery. It possesses an antipyretic (Javarghana) characteristic that lowers fever.
How to use: mix  1-2 tablespoons of Giloy juice and about the same water. On an empty stomach, sip this concoction every morning.
2. Giloy for dengue
A natural antipyretic is giloy. It increases platelet count and lowers the risk of complications in dengue fever. Regular consumption of this herb promotes immunity against dengue and hastens recovery. For optimal outcomes, boil some Tulsi leaves with the Giloy juice before drinking it to raise platelet count.
How to use: Squeeze the juice from a fresh Giloy stalk, combine it with 5-7 tulsi leaves, and then boil it with 1/2 cup of water. Drink it every day. It raises platelet counts.
3. Increases immunity
This herb boosts a person's vitality and stimulates their immune system. Adding kadha or giloy juice to your diet twice a day might boost your immunity. Antioxidants abound in it, and it aids in the body's detoxification process. Additionally, giloy juice improves and detoxifies your skin. Giloy is also used for conditions connected to the heart, the liver, and urinary tract infections.
How to Use – Use two to three teaspoons of Giloy juice. Mix it after adding the same amount of water. Drink it once or twice daily, ideally before meals, to strengthen your immunity.
4. Healthier respiratory system
The giloy plant is anti-inflammatory. The inflammation of the trachea is a contributing factor in asthmatic breathing issues. To help you breathe more easily, it can help reduce irritation.
How to use: Take a handful of the plant's little branches, thoroughly wash them, then use a knife to scrape off the outer layer. Put the stems and one cup of water in a blender. Run the blender until the liquid is completely smooth. Sip it all up.
5. Decreases tension and stress
It is a fantastic treatment for lowering anxiety and stress levels. It soothes your body. Giloy can also improve memory and cognitive abilities.
How to use:  1-2 tablespoons of Giloy Juice and the equivalent amount of water. It should be consumed once daily in the morning on an empty stomach.
6. Treats gout and arthritis
It has anti-arthritic and anti-inflammatory qualities that aid in lessening gout and arthritis. Its powder mixed with warm milk can help with joint pain.
How to use: Mix the powder of this herb with warm milk to relieve joint pain.
7. Enhances vision
Applying giloy topically has proven to be quite useful in improving vision. Typically, Panchkarma uses it.
Simply boil its powder or  leaves in water to prepare the remedy, then apply it to the eyes once it has cooled.
Conclusion
This herb has no negative side effects. It may cause low blood sugar levels when taken along with other diabetic drugs, though.
It may increase immune system activity, which could exacerbate the signs and symptoms of autoimmune illnesses including rheumatoid arthritis.
The impact on nursing mothers is unknown. It should therefore be avoided while lactating in order to be on the safe side.