Making CBD Oil from Coconut Oil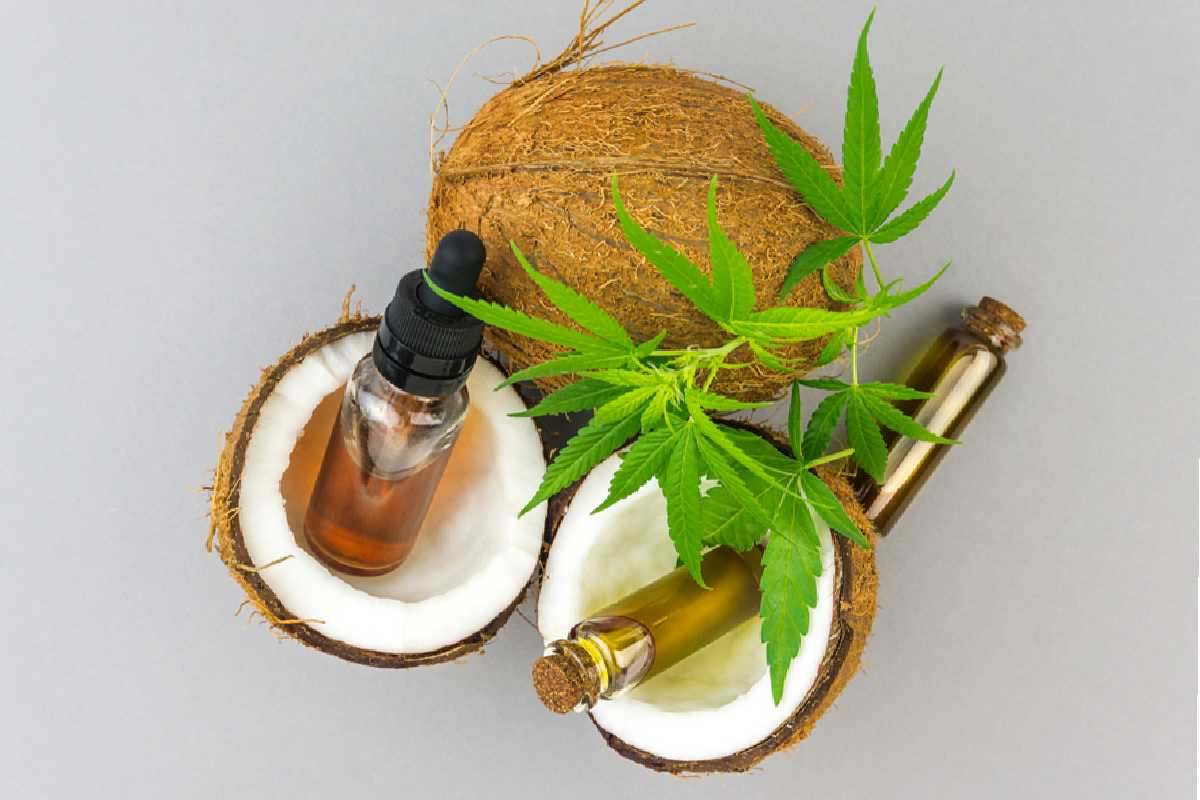 Making CBD Oil from Coconut Oil
Making CBD Oil from Coconut Oil: Coconut oil and hemp flower with a high CBD content can be used to create your own CBD oil.
Coconut oil is a multipurpose plant-based oil that can be applied topically, eaten raw, or used in cooking. Additionally, it can be used to create homemade CBD-infused oil that can be applied topically and orally.
Materials and preparation
You'll require the following ingredients to make your own CBD-infused coconut oil:
Ingredient
1 cup of ground decarboxylated high-CBD hemp
Equipment
double-boiler or slow cooker (alternatively, a stainless steel bowl and saucepan)
cheesecloth or muslin
mesh strainer
glass jug
sterilized storage container (preferably a glass jar with a lid)
cooking thermometer
spatula or spoon
Make sure your hemp is decarboxylated, commonly referred to as "decarbed" or "cured," and not raw. The natural conversion of CBDA, the acidic form of CBD, to CBD occurs by decarboxylation.
You want CBD, not CBDA, thus you must make sure your hemp is decarboxylated, especially if you produce it yourself. CBDA may have significant medical benefits.
You might purchase decarboxylated hemp from a local grower, a CBD store, or a dispensary. Hemp CBD that is ready for usage has often been decarboxylated.
Potency is a consideration when buying hemp flower. Your DIY CBD coconut oil will be more potent the more CBD there is in your hemp.
Step-by-step Instructions
By stacking a stainless steel dish over a saucepan, you may create a temporary double boiler. The saucepan should be about halfway filled when you add the water.
Your double boiler or slow cooker should have 1 cup of coconut oil on top of it.
Turn your stovetop or slow cooker to the low setting and heat until the coconut oil melts.
Stir one cup of ground CBD hemp flower into the coconut oil once it has melted.
The cannabis should be heated for an additional 60 minutes. Attempt to prevent the oil from heating up too much, as this could denature the cannabinoids.
Use a thermometer if you have one to maintain the temperature between 130°F (54°C) and 150°F (65°C).
The oil needs to be strained now. As you slowly pour the oil into a glass jug, place the cheesecloth or muslin on your mesh strainer.
If desired, gently squeeze the muslin with a spatula or spoon to let more oil pass through.
The cheesecloth can be squeezing with your hands, but be aware that it will be hot.
In your storage container, pour the squeezed oil. Make sure the lid fits snugly.
Preservation and expiry
You should keep your CBD oil in a cold, dark location. You can store it in a cabinet or the refrigerator.
Coconut oil doesn't go bad or go rancid with time. CBD, however, might deteriorate. Many people who create their own CBD oil at home advise using it within a year.
Attempt to keep your CBD oil clean. This entails making sure the jar is properly closing and that you only take CBD oil out with a clean, dry spoon; never double-dip!
Why mix coconut oil and CBD oil?
Because CBD is a fat-soluble molecule, people frequently combine it with coconut oil. This indicates that it binds to fat molecules during infusion.
This indicates that it binds to fat molecules during infusion. It won't work to infuse CBD hemp flower with water since it has to bind with fat in order to be effective.
It won't work to infuse CBD hemp flower with water since it has to bind with fat in order to be effective.
Why coconut oil in particular?
Because it has antibacterial, antifungal, and antioxidant characteristics, coconut oil is saying to have a number of health benefits.
Although it is edible, you can also cook with it and use it to moisturise your skin and hair.
You can purchase different carrier oils for CBD if you don't like coconut oil, such as hemp seed oil and olive oil. O
live oil and hemp seed oil are both suitable for cutaneous and internal use (in other words, you can put it on your skin or eat it).
What can CBD coconut oil be used for?
Coconut oil with CBD has several uses. It can be applying in the subsequent ways:
Eat it right away.
Use it to cook.
Topically apply it on your skin and hair.
You may use it to create various CBD-infusing items like bath bombs, massage oils, and medicinal salves.
The potential advantages of CBD are numerous. It might be utilising by people to alleviate the signs of:
worry disorders
cardiovascular issues
inflammation insomnia
seizure disorders and pain
Also Read: CBD and Immune System