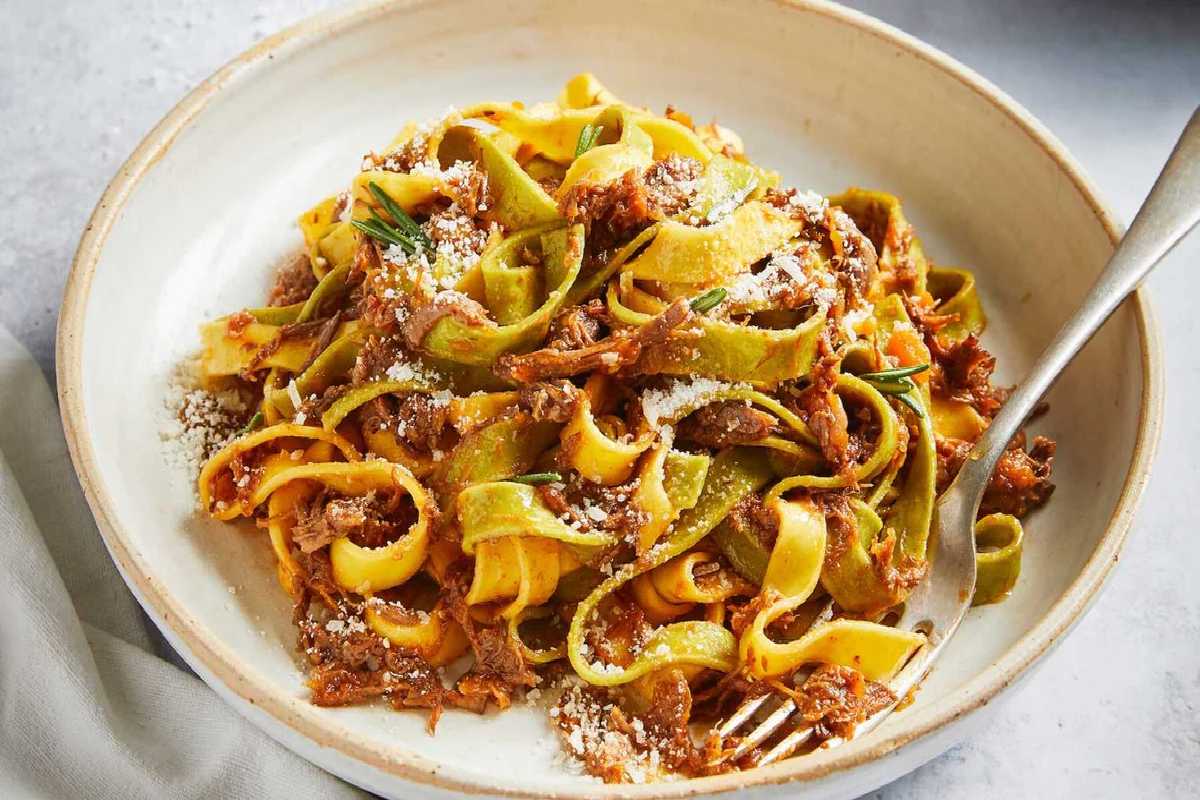 Ragu Tagliatelle
Ragu Tagliatelle This pasta recipe will not only entice you with its flavor but will also leave you wanting more.
Follow the detailed instructions below to make a delicious dish of Ragu Tagliatelle at home.
What is Taglitell?
Ragu Tagliatelle is a traditional Italian dish that will transport your taste buds on a flavor journey. The combination of Tagliatelle pasta, pork, lamb, pancetta, and chicken stock creates multiple layers of flavor in the dish.
In addition to enhancing the flavor, adding red wine during cooking imparts a strong and distinct aroma. If you enjoy pasta, you should try this recipe.
Ragu Tagliatelle will be the highlight of any occasion, whether it be a formal lunch or dinner. Ragu Tagliatelle is a rich and delicious pasta dish you must try if you are tired of the usual red sauce and white sauce pasta.
Pair it with a glass of wine or your favorite mocktail to round out the meal. You can use grated cheese and basil leaves as a garnish.
Ingredients of Ragu Tagliatell
250 gm minced pork
100 gm pancetta
1 chopped onion 2 chopped stalks of cultivated celery
1 sprig rosemary
300 ml chicken stock black pepper as required
250 gm minced lamb 200 gm pasta tagliatelle
1 carrot chopped 1 cup of tomato puree 150 ml of red wine
salt as required
2 tablespoons virgin olive oil
How to make Ragu Tagliatell?
sauté the ingredients.
Heat the oil in a pan done medium flame and sauté the onions for two minutes. Add the carrots, celery, and rosemary at this point. Saute for 3-4 minutes. Just allow them to become translucent and soft, and avoid burning them.
Make the sauce. Add the pancetta, pork, and lamb mince. Let them cook until the color of the meat changes. It will take approximately 10 minutes. Once the meat is nearly done, add the red wine and cook for five minutes or until the wine has evaporated.
Here and now stir in the tomato puree, followed by the chicken stock. Allow it to cook for an additional 40 minutes on the heat (if the chicken stock has salt, then there is no need to add more salt, otherwise, add salt as per taste at this step).
Adjust the amount of black pepper to taste. Once the sauce has thickened and reached a deep red hue, it is ready.
Cook pasta and combine with sauce.
Bring salted water to a boil for pasta. Follow the instructions on the package for boiling. Once the water has been drained, add the pasta to the sauce and mix thoroughly.
Prepared for service, Ragu Tagliatelle is currently ready for service. If desired, garnish with cheese (optional) and enjoy.
Tips
If you prefer a spicy dish, add a slit red chili with the meat, but remove it before adding the pasta to the sauce.
Also Read: Ricotta and Spinach Ravioli in Tomato Sauce