Ricotta and Spinach Ravioli in Tomato Sauce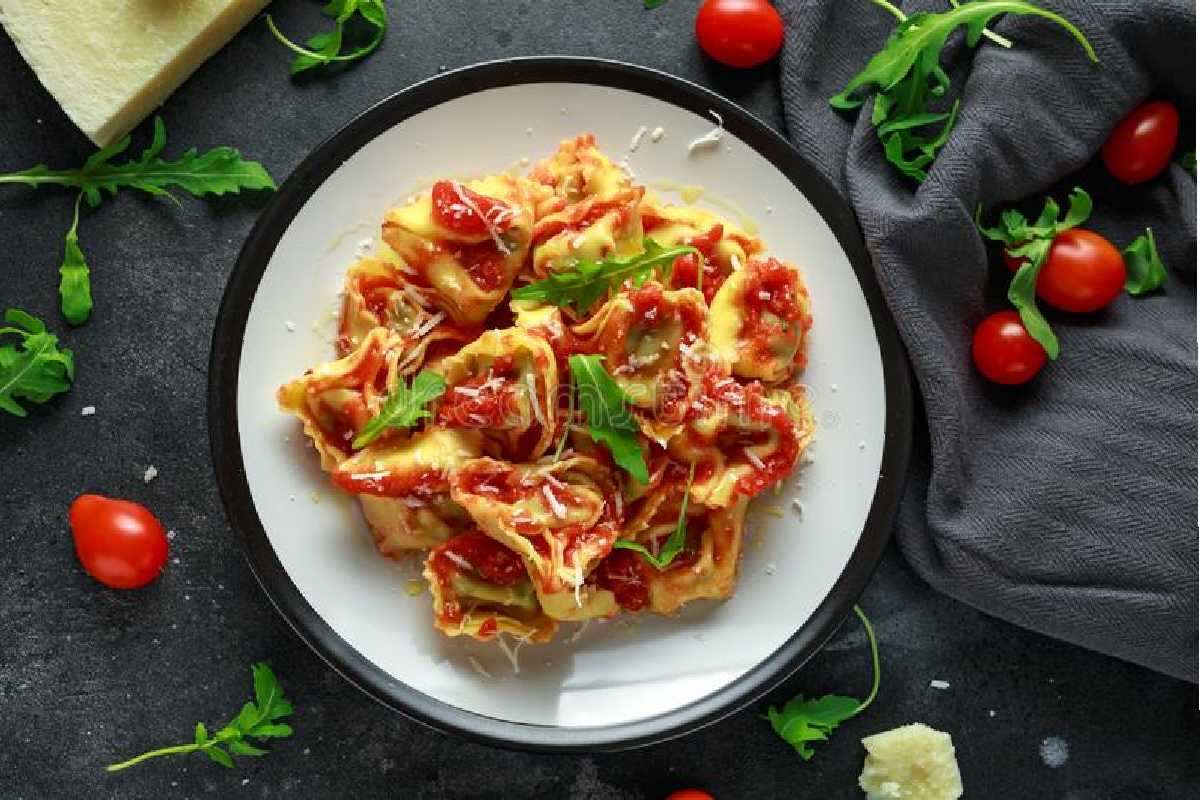 Ricotta and Spinach Ravioli in Tomato Sauce
Ricotta and Spinach Ravioli in Tomato Sauce: You desire a delicious Italian dish for your Sunday brunch. Then try these ravioli with ricotta and spinach in tomato sauce. Tender, exquisite homemade pasta stuffed with ricotta, spinach, and nutmeg mixture.
These ravioli, served with a simple basil tomato sauce and topped with grated Parmigiano, will bring back memories of Italy with just one bite.
Creating this dish from home ensures that the ingredients are fresh and free of additives. Try this traditional dish with your family: Ravioli
Ricotta e Spinaci or Ricotta and Spinach Ravioli in Tomato Sauce.
Ingredients for Ricotta and Spinach Ravioli in Tomato Sauce
200 kilograms all-purpose
100 grams of cooked spinach
1/4 teaspoon ground cinnamon
1 onion and 796 milliliters of tomato puree
4 leaves of sweet basil
3 tablespoons of parmesan cheese water as necessary
salt as required
black pepper as necessary
1 medium carrot salt as required
2 tablespoons virgin olive oil
For Filling
200 grams of ricotta for dough
2 eggs are required for garnishing with parmesan cheese
As The Main Course
1 bulb of garlic
How to Prepare Ravioli with Ricotta and Spinach in Tomato Sauce?
Homemade Pasta Dough:
Making homemade pasta dough is relatively simple, and the process is the same for various pasta shapes.
The ratio of 1 egg per 100 grams of flour yields enough pasta for two people. This recipe calls for 2 large eggs and 200 grams of type 00 flour.
If the dough appears too dry during kneading, we can add a few drops of water.
Gradually combine the egg and flour:
Spread the flour on the wooden board, make a well in the center and add the eggs. Beat the eggs thru a fork and incorporate a small amount of flour.
Continue beating the eggs, incorporating more of the inner 'wall' of flour, until the flour begins to absorb the eggs. When the eggs have been incorporated into the flour and a somewhat ragged dough has formed, begin working the dough.
Initially, work the dough with your fingertips to release moisture.
If necessary, a few drops of water should be added.
Knead the dough:
For several minutes, knead the dough vigorously with the entire hand, folding and turning it. As soon as the dough is smooth, form it into a ball, cover it with a cloth, bowl, or plastic wrap, and allow it to rest for 30 minutes.
The gluten will relax, and the dough will become more elastic. While the dough rests, you should prepare the filling.
Prepare the stuffing:
Add the ricotta, Parmigiano, and chopped boiled spinach to a bowl. Before chopping the spinach and adding it to the ricotta, thoroughly squeeze it.
Season with salt and freshly grated nutmeg. Mix all ingredients until smooth and creamy, taste for seasoning, and set aside.
Prepare the pasta:
Later the dough has rested. Divide it into four portions. Income one piece of dough and cover the remaining pieces to prevent them from drying.
Flatten the piece of dough on a floured work surface by pressing it with your hands.
Then, while turning the pasta machine's handle, begin rolling the dough, beginning with the lowest number on the wheel, which corresponds to the pasta machine's thickest roller, and gradually increasing by one until you have a relatively thin pasta sheet.
At each number, pass the sheet through the rollers multiple times. Since ravioli are created by overlapping two pasta sheets, the dough should be thin.
Cut the pasta sheet in half:
Cut the pasta sheet in half at the desired thickness using a knife. Add a heaping teaspoon of filling to one half, leaving about two fingers of space in between.
Cover with the remaining half sheet and press the dough around the filling with your fingers to remove as much air as possible. Once the ravioli are completed, they must be placed on a large baking sheet lined with parchment or wax paper and dusted with flour to prevent sticking.
A wood surface dusted with flour works well for laying ravioli. Allow the ravioli to dry slightly, and if you haven't already, prepare a simple basil tomato sauce.
Tomato sauce:
After the oil is hot, enhance the minced garlic, onion, tomato puree, and carrots to the pan. Cook the sauces and season to taste with salt and pepper. Add basil leaves and cheese last.
Preparing a meal:
In countless pots of salted boiling water, delicately place ravioli. Wait until the ravioli rises to the surface, then cook for an additional 2 minutes, for 6-7 minutes.
Using a slotted spoon, remove pasta from the water and place it in a large bowl with tomato sauce on the bottom. Add sauce on top, stir gently, and then generously sprinkle with Parmigiano.
Place five or six ravioli on a plate and top with additional sauce and Parmigiano. Willing to serve!
Also Read: Pepper and Black Bean Jack Quesadillas