Strawberry Oreo Cake – Icebox Edition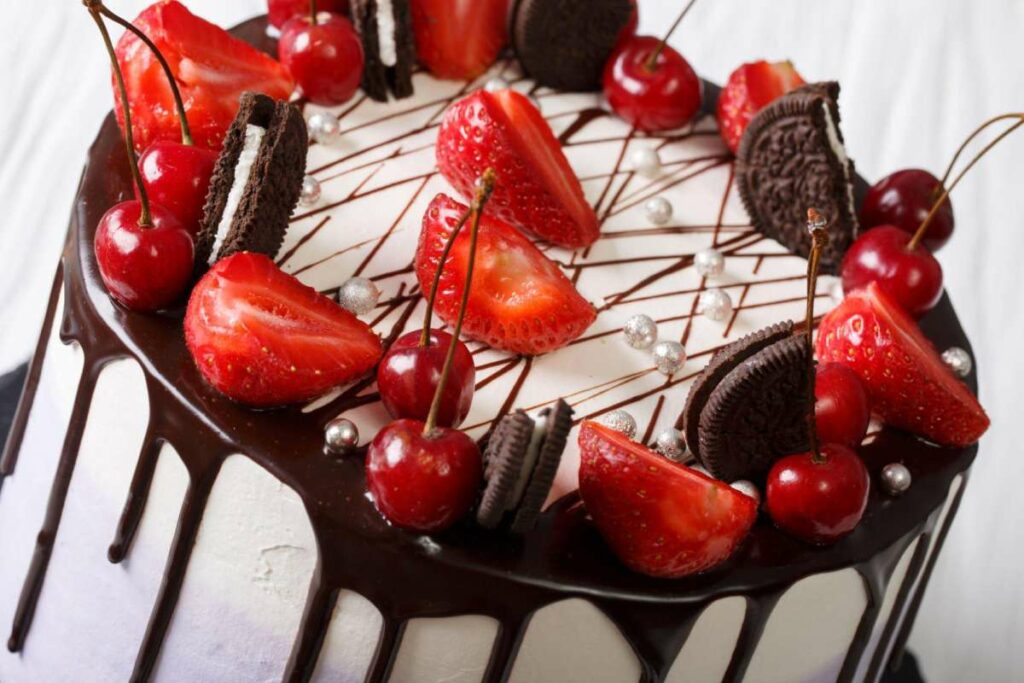 Strawberry Oreo Cake is a classic summertime treat that involves no baking or cooking at all. Layering cream-filled chocolate cookies and delicious strawberry slices between swoops of cookies-and-cream whipped cream create this must-try variation. All you require is just five components and a little assembly.
We can also substitute graham crackers or pudding for the cream, respectively. Using Oreos as the base and topping moderately sweetens the cream. An additional layer of strawberries adds a fresh, summery burst.
INGREDIENTS TO MAKE STRAWBERRY OREO CAKE
2 lbs. of strawberries (about 6 cups)
64 Oreo cookies
3 1/2 cups of cold heavy cream
1/2 cup of sugar powder
Vanilla extract, two tablespoons
1/4 of a teaspoon of kosher salt
INSTRUCTIONS
Cut large slices of strawberries 2 pounds (approximately 6 cups) in half and thinly slice. Chill 15 strawberry slices for garnish in the refrigerator. Then finely chop 16 Oreo cookies (about 2 cups) as well. Keep 1/2 cup of the chopped Oreos aside for garnish.
In the bowl of a stand mixer with the whisk attachment, add 3 1/2 cups of cool heavy cream. (A large bowl and an electric hand mixer are an alternative.) For about 4 minutes, beat at medium speed until just barely thickened. When soft peaks start to form, add 1/2 cup of powdered sugar, 2 teaspoons of vanilla essence, and 1/4 teaspoon of kosher salt and whip for an additional 1 to 1 1/2 minutes. When firm peaks form by blending, add the remaining 1 1/2 cups of chopped Oreo cookies and mix on low speed.
In a 9×13-inch baking dish, spread 2 cups of Oreo cream evenly throughout the bottom. Place 24 Oreo cookies in a single, equal layer on top of the cream. Add half of the strawberry slices in a single layer on top. Over the strawberries, gently spread 2 cups of the Oreo cream. Sliced strawberries and the final 24 Oreo biscuits should be placed on top. With a narrow border of the strawberry layer visible, spread the remaining Oreo cream on top and add swirls with a spoon.
Refrigerate until the Oreo cookies are thoroughly softened, which should take at least 6 hours or overnight. Cover with plastic wrap. The cake should be nice and soft and should effortlessly be able to be cut with a knife. Add the saved Oreo and strawberries to the cake as a garnish. Your No-bake strawberry Oreo cake is ready!