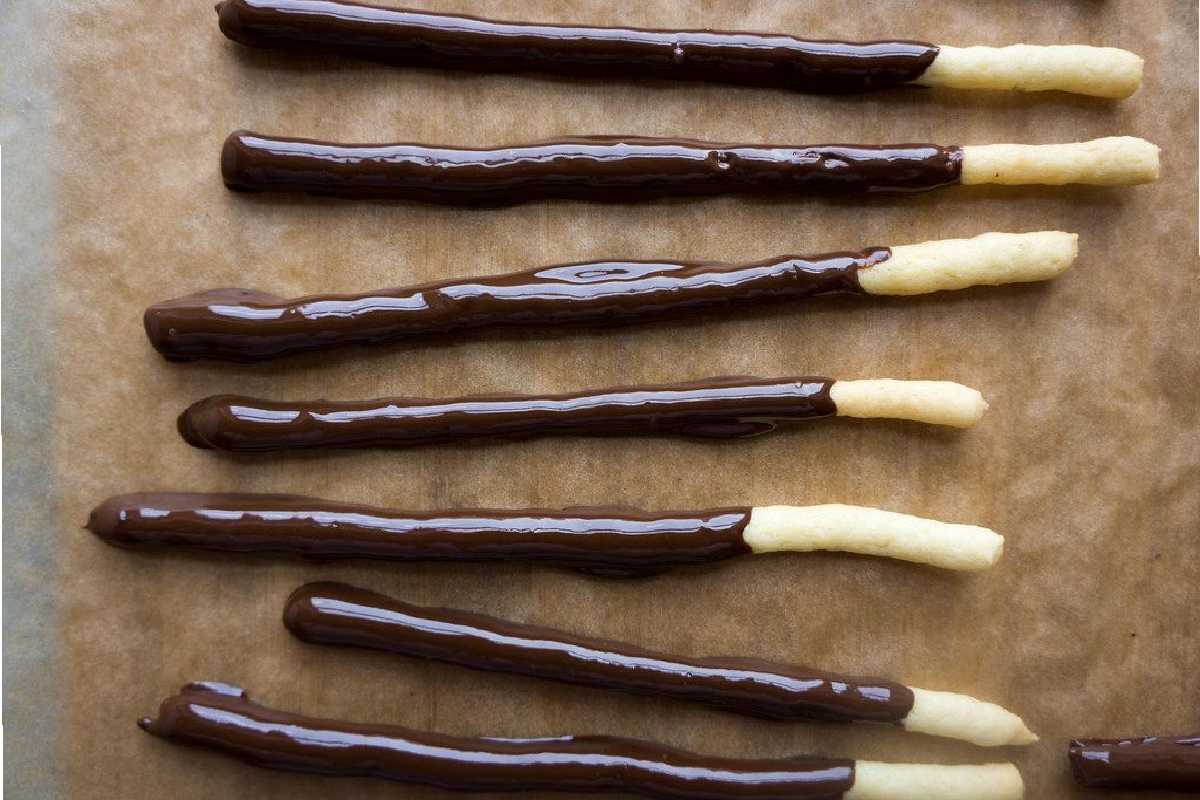 Shrimp snacks and Pocky sticks are necessities for every trip to a Korean grocery store. Here are pocky sticks in vegan form. The traditional combination of chocolate and a little sea salt on the ends of the shortbread sticks is a favourite.
Ingredients Of Pocky Sticks
For the Bread Sticks:
4 tablespoons of plant-based butter
2 teaspoons of sugar, granulated
2 tablespoons of full-fat coconut milk.
Vanilla extract, 1 teaspoon
1 cup self-rising flour and more for rolling
A half-teaspoon of baking powder
A dash of salt
For The Chocolate:
Dark chocolate, 8 ounces
1 teaspoon of coconut oil, refined
Sea salt that is grainy or flaky
Preparing The Pocky Sticks
In the bowl of a stand mixer (or medium bowl if using an electric hand mixer), add 4 tablespoons of butter and let melt at room temperature.
2 tablespoons of powdered sugar should be added to the butter bowl.
For about a minute, whip the mixture with the paddle attachment at medium speed until creamy and blended.
Beat on low speed for about a minute, adding 2 tablespoons coconut milk and 1 teaspoon vanilla extract to blend.
Add 1 cup self-rising flour, 1/2 teaspoon baking powder, and a dash of salt in a small bowl.
When incorporated and dough forms, add to the butter mixture and whisk with a wooden spoon (knead by hand if needed).
It will be a soft, sticky dough. Place the bowl in the refrigerator covered with plastic wrap for at least an hour and up to two days.
Set a rack in the centre of the oven and turn the temperature to 350 degrees.
In the meantime, line 2 baking sheets with parchment paper or silicone baking mats.
Allow the dough to rest at room temperature for 30 minutes if it is too stiff to roll.
Dough is divided in half. Make sticks out of one portion: Take a piece of dough the size of a small gumball (3/4 inch) and pinch it off. Roll the piece onto a work surface  into a rope that is 6 to 8 inches long and about 1/4 inch thick.
Transfer the rope with caution to one of the baking sheets. If the dough is too crumbly, knead in 1 teaspoon of warm water to make it sticky enough. Put the dough in the freezer for 10 minutes if it becomes too soft to handle. Continue shaping the dough in the first portion until it is all done.
Bake for about 15 minutes, or until the shortbread's edges start to become golden. On the second baking sheet, repeat the process of shaping and baking the remaining dough. On the baking sheet, let the shortbread sticks to cool fully.
Make The Dip:
Place 8 ounces of finely chopped dark chocolate in a medium microwave-safe bowl.
Microwave the chocolate in increments of 30 seconds while stirring in between. (An other method is to melt in a little saucepan over low heat.)
When the chocolate is glossy, add 1 teaspoon of refined coconut oil and stir.
Using a spoon, drizzle chocolate over each shortbread stick, leaving approximately an inch of each uncovered, or hold a stick vertically over the bowl of chocolate.
Add a small amount of sea salt. Put in  the refrigerator to set.
Storage:
The chocolate-coated sticks can be kept for up to 6 days in the refrigerated or at room temperature in an airtight container with parchment or wax paper placed between each layer.
FREQUENTLY ASKED QUESTIONS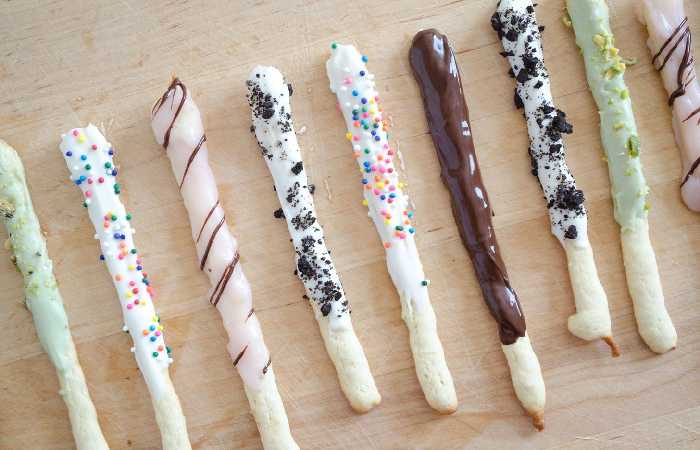 1. How do I pronounce Pocky, and where did the name originate?
Simple. Similar to "rocky," but with a "p." The Japanese onomatopoeia for the snapping sound made when eating Pocky sticks inspired the name Pocky.
2. Is Pocky free of peanut cross-contamination?
Apart from a few seasonal Japanese flavors, Pocky does not include peanuts. However, it is made from a plant that processes almonds and peanuts.