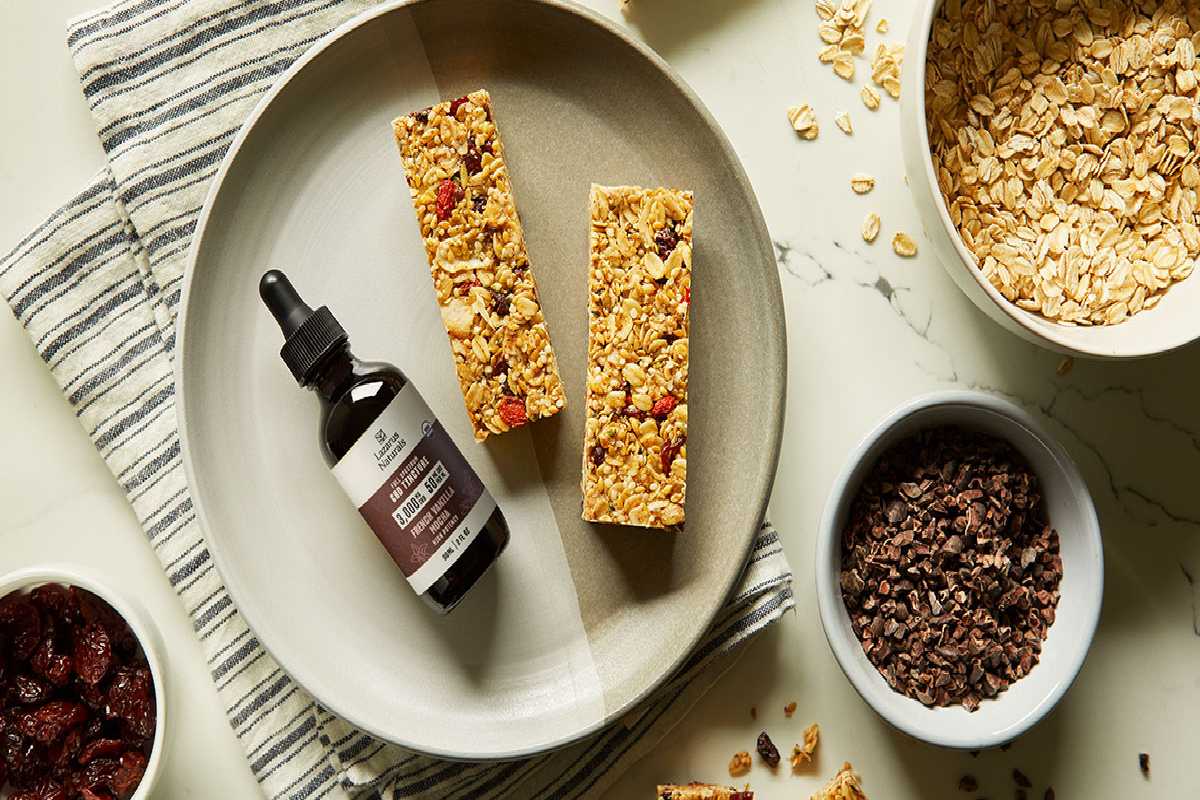 Rolled oats, almonds, honey, other sweeteners like brown sugar, and occasionally puffed rice are the ingredients in granola, a breakfast and snack meal that is typically baked till crisp, toasted, and golden brown. To prevent burning, the mixture is mixed while baking. Sometimes, sweets like chocolate and dried fruit like raisins and dates are included. Yogurt, honey, milk, fresh fruit such as bananas or strawberries, and other cereals are frequently consumed with granola.
Here's How To Make No-Bake CBD Granola Bars
Ingredients
1 and a half cups of rice cereal
 2 1/4 cups of instant oatmeal
 Butter, 6 tablespoons
Light brown sugar, 1/3 cup
 Vanilla extract, 1 teaspoon
 A half-cup of chocolate chips
Method
To begin, line a 9-inch square pan with parchment paper. Then, combine oats and rice cereal in a bowl. Then, put the butter, brown sugar, and honey in a bowl that can be heated in a microwave. For about a minute, heat your mixture on high. When you remove the mixture from the microwave, stir it to melt the butter. Reheat the mixture for 1 1/2 more minutes in the microwave.
After taking the liquid out of the microwave, stir in the vanilla. To ensure that the entire surface is covered in rice cereal and oats, pour the dry mixture over the heated mixture and gently stir. After the entire mixture has been prepared, pour it over the pan. You can use your hands to press the mixture into the pan evenly.
Then, top the mixture with your chocolate chips. To make sure they stay in place, gently press them in. Additionally, you may now drizzle the surface of the bars with your pre-measured CBD oil, such as Hemp Bombs CBD Oil with Watermelon. Divide the batch into individual bars in your head, then try to sprinkle the proper dosage on each one. The bars should be refrigerated for 60 to 120 minutes. When ready, you can cut it into pieces.
Cooking With CBD
You might not know that CBD can be infused into your favorite meals and beverages. To benefit from cooking with CBD, you don't have to be an expert chef. Just a basic recipe will do! Additionally, adopting a simple "no-bake" recipe is a fantastic way to consume your CBD dosage without the risk of compromising its composition or integrity by exposing it to heat.
Why Should You Cook With CBD?
Simply put, people prefer being able to "grab and go" when it comes to their CBD dosage, which is the main factor behind why they enjoy cooking with CBD oil. Taking your daily CBD as a delicious, healthy treat that you've made is rewarding. Knowing that you are also receiving the advantages of CBD allows you to take your time and enjoy every meal or sip. Because they find eating their CBD more appealing than taking a dose of oil tincture in the morning, many consumers prefer CBD breakfast dishes like smoothies.
Also read – https://cbdrelm.com/2022/11/26/what-is-cbd-oil/