Why Is The Top Layer Of My Nail Peeling Off? how to fix it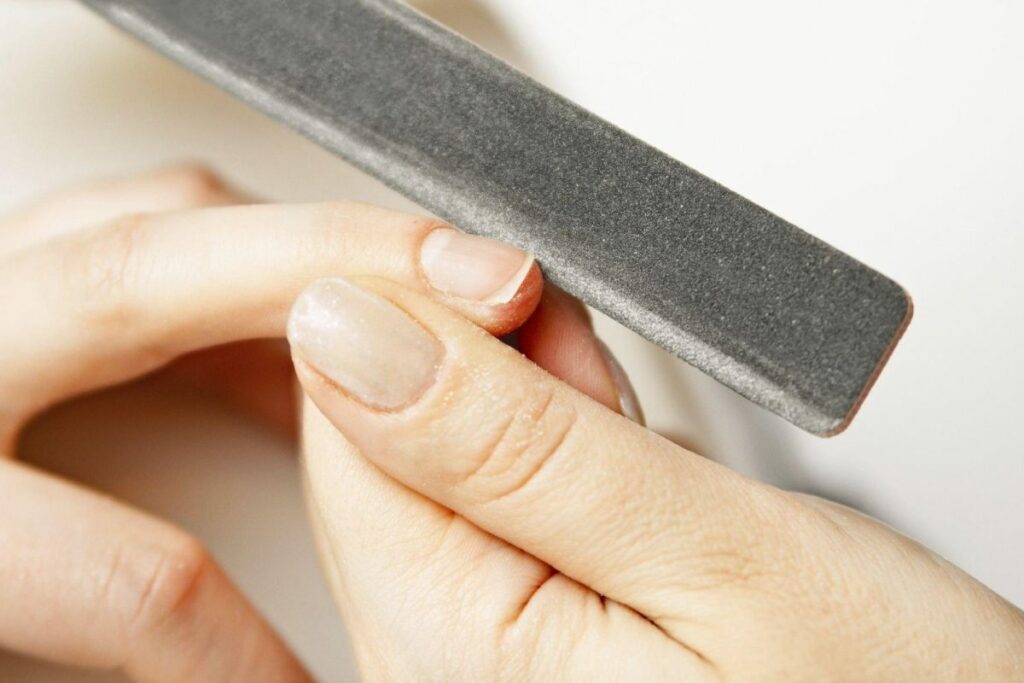 Why Is The Top Layer Of My Nail Peeling Off – Peeling may be brought on by trauma or injury to the nail itself. The nails can get dry if you repeatedly soak your hands in hot water when doing the dishes or indulging in any other lengthy water exposure. Peeling may also result from this. Your fingernails might reveal a lot about your health. Your fingers may be letting you know that something else is going on within your body if they are weak and brittle, discolored, or starting to develop ridges.
Nail peeling is similar to this. Peeling nails can occur for various causes, even though it is one of those annoyances in appearance that you would be tempted to disregard. Your food, how you do your nails, or even a medical condition might be to fault.
But as soon as you identify the problem, you can get the proper care. Giving your hands and nails some T.L.C. could work, but if not, consult a dermatologist or primary care physician for advice, advises Shirin Peters, M.D., the founder of Bethany Medical Clinic in New York City. Your dermatologist will enquire about potential causes, exposures, and any underlying illnesses or drugs that could be involved.
How To Prevent And Stop Nail Peeling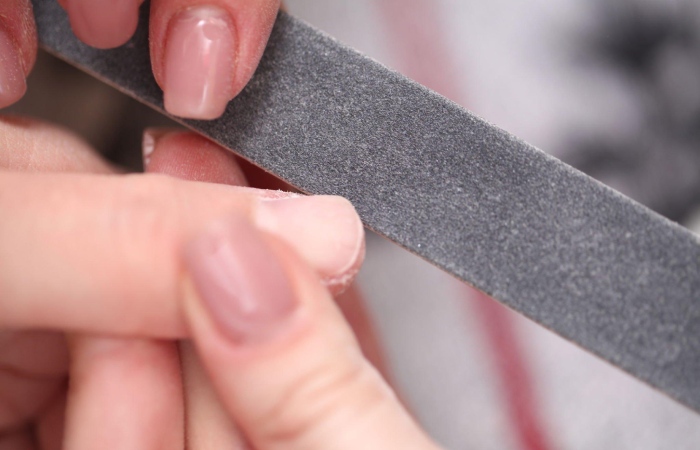 Start by focusing on daily routines that could harm your nails, such as plucking off acrylics rather than having them removed at a salon and washing your dishes  in boiling water. You might begin to realize that we put our hands through a lot when you start paying more attention to them, Wang warns.
Your Hands Are Regularly Damp, And Your Nails Are Peeling And Flaking.
According to Blair Murphy-Rose, M.D., F.A.A.D., a board-certified dermatologist and clinical lecturer at New York-Presbyterian Hospital Weill Cornell Medical Centre, recurrent wetting or drying of hands is why nails peel. So it frequently occurs for hairdressers, house cleaners, and other occupations needing regular hand soaking.
Spending time in hot or muggy environments can also cause your nails to peel. Dr. Peters states, "Too much moisture or prolonged exposure to moisture causes the nail to swell with water and become soft." The consequence is a fragile, brittle nail that can be damaged by even minor impact.
You overstuffed your nails.
Nails that have been dried out by excessive polishing might be just as prone to peeling and splitting as nails that are moisture-laden.
She notes that while slight stress can easily break the nail, excessive dryness makes the nail brittle. This implies that a minor nick might develop into a significant split if nails are overly dry.
Your items include excessively aggressive ingredients.
Certain substances, including those in hand soap, sanitizers, laundry detergent, and glue for gel or artificial nails, can dry out the skin. She advises consumers to seek "hypoallergenic" goods, which often include softer or natural chemical ingredients. She recommends using Aveeno, Cetaphil, or Dove bath care products, Seventh Generation dish soap, Dove hand sanitizer, and Arm & Hammer Sensitive Skin Free & Clear laundry detergent if you're unsure where to start.
You have had nail trauma.
While picking at nail paint, chewing your nails, or using your nails to open a can of seltzer may not seem highly unpleasant, they can start to damage your nails.
Although the precise mechanism is unknown, according to Dr. Rose, nail peeling typically happens when cell-to-cell adhesion is compromised. "The layers of compressed cells that make up our nails are many. The connection between one cell and other nearby cells may be jeopardized as their links weaken. When the nail peels, this happens. The layers separate when cell-to-cell adhesion breaks down.
Dr. Rose advises using a nail strengthener, such as Ella+Mila First Aid Kiss Nail Strengthener or O.P.I. Nail Envy Nail Strengthener, to avoid that separation from occurring. Also, be sure to use a gentle, acetone-free nail polish remover rather than taking the polish off bit by bit.
A lack of certain nutrients could be to blame.
According to Dr. Peters, low calcium levels, a lack of iron, vitamin D insufficiency, and deficiencies in B vitamins like biotin have all been linked to peeling nails. "All of these vitamins aid in strengthening keratin, the substance that makes up tissue nails."
To address nutritional deficiencies, eating a well-balanced diet full of fruits, vegetables, and lean meats is an excellent place to start. However, you might also ask your doctor whether you would benefit from specific supplements.
A thyroid condition might be the culprit.
Peeling nails can be a warning indication that you should get your thyroid levels tested, in addition to other symptoms such as weight fluctuations, anxiety, exhaustion, and brain fog characteristic of thyroid disorders.
Dr. Peters adds that the nails become brittle when older nail tissue remains in place more extended due to thyroid dysfunction.
A fungus has infected you.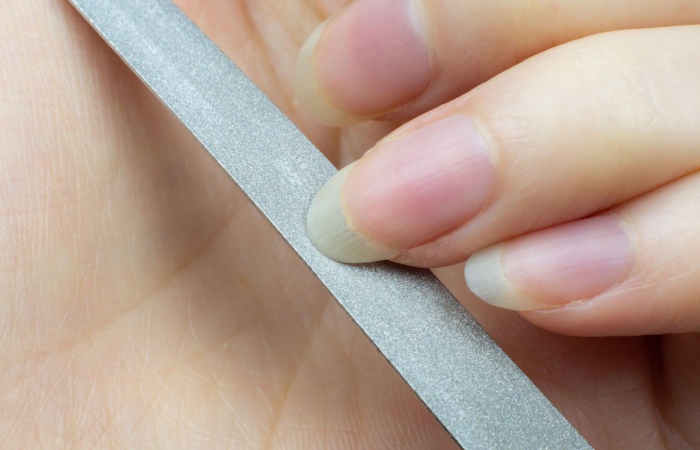 "Onychomycosis, or a fungal infection of the nail, can cause several different types of nail dystrophy, including nail peeling," explains Dr. Rose. According to specialists at the Mayo Clinic, you can also notice thickening of the nails and white or yellow-brown discoloration.
Make an appointment with your dermatologist if you suspect you have a fungal infection because it can be challenging to cure. Your doctor can determine if you have an infection and will probably recommend oral antifungal medications to speed up the healing of the nail.
You suffer from hand eczema.
Peeling nails can occasionally be brought on by certain skin disorders like eczema. The hands are the only area of the body where eczema can appear. Dry, flaky hands can develop red, inflamed regions prone to cracks and fissures, which can cause excruciating stinging and burning. "If inflammation surrounds the nail, this can impact normal nail growth and appearance, and nails can grow with irregularities, including a tendency to peel," explains Dana Stern, M.D., a board-certified dermatologist and the founder of Dr. Dana in New York City. Manage eczema symptoms by hydrating the skin of your hands with your preferred moisturizer to prevent nail peeling.
You should scrub your skin.
We frequently opt for a body scrub to remove flakiness when skin feels dry. With nails, the same goal is achieved. According to Dr. Stern, because the nail comprises several layers of dead nail cells, nail peeling can sometimes be caused by inadequate exfoliation. Exfoliation can be accelerated by using an alpha hydroxy acid (A.H.A.) such as glycolic acid, which has been demonstrated to help revitalize nails.
Whenever To Visit A Doctor
Peeling nails is a regular occurrence and often not cause for concern. The degree of the peeling, the underlying reason, and the effectiveness of the therapy should all change over time. Typically, peeling has no internal cause, but if it persists or appears abruptly in someone who has always had beautiful, healthy nails, consult your dermatologist or primary care doctor to rule out conditions like thyroid illness or anemia. An in-depth physical examination and blood tests might provide a clearer picture of what might happen.
What Causes My Nails To Peel?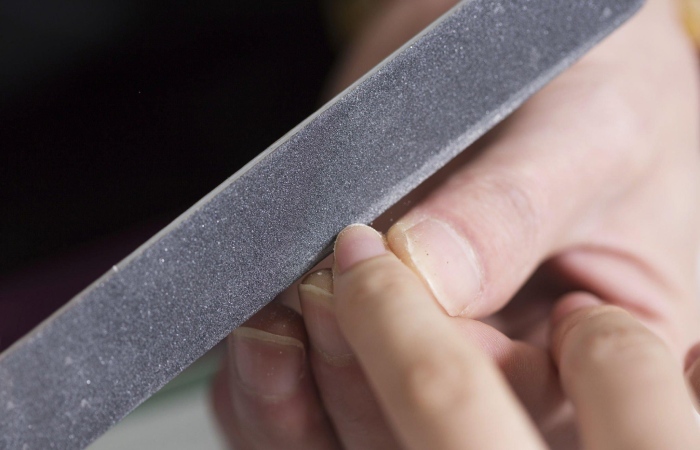 The good news is that, depending on how often you have them and how they're administered, a gel manicure won't harm your natural nail permanently or cause peeling, All bets are off and you are now in risky territory for the health of your nails if they are not applied or removed properly, Gels are great at hiding nail faults, but Rita Remark, global lead educator for Essie, says the peeling issue may have been for a lot longer than you realise. If you tear the gels off instead of carefully soaking them between gel manicures, you risk thinning, damaging, and separating the layers of your nails. Be delicate whether DIYing your gel manicure at home or going to a professional.
What If Gel Manicures Aren't The Root Of The Peeling?
According to Dr. Melanie Palm, a board-certified dermatologist at Art of Skin MD in San Diego, California, "peeling nails, or onychochilid, is the result of trauma to the nail." Trauma can result from biting your nails, over-buffing or filing the nail while removing gel or artificial, or even washing your hands in hot water.
As stated by Tina Wang, owner of Brooklyn, New York's Lunula Salon, "exposure to extreme water temperatures should be avoided," including activities like taking hot showers and washing dishes with hot water. The drying out might cause the nails to peel.
Vitamin Deficiencies And Peeling Nails
According to Dr. Palm, iron, vitamin D, biotin, and calcium dietary deficits are commonly to blame for peeling nails. eating a diet rich in leafy greens, fruits, and lean proteins to maintain the health of your nails as well as taking supplements that include these vitamins.
Again, see your doctor to establish whether taking supplements or changing your diet are your best alternatives to build and strengthen the keratin tissue that is used to make nails.