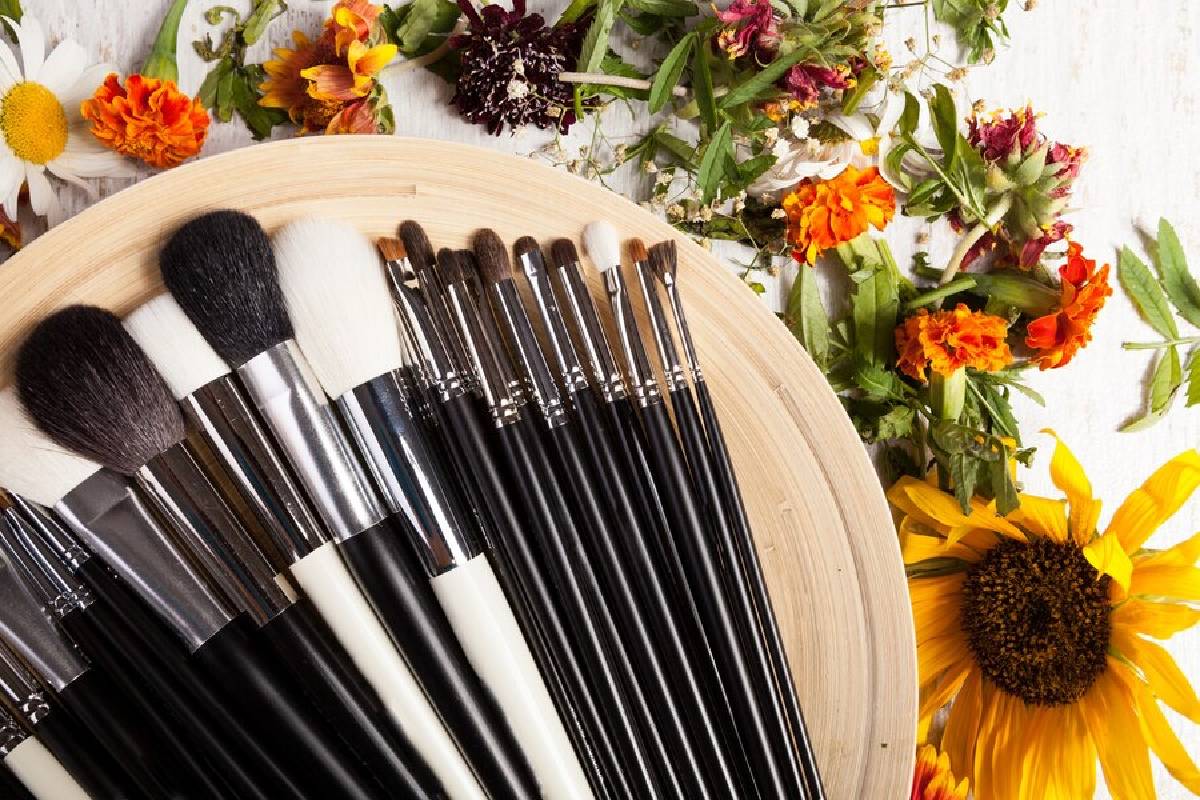 There are many types of makeup brushes in the market, with different cuts, sizes, and materials. So much variety can be a bit overwhelming, and many people are not clear about the functions of each brush or if they are using the right brush for each part.
Let us learn the differences between each type of brush so that you can get more out of this essential makeup accessory.
1.    Foundation brushes
The types of makeup brushes to apply the base can be very different since depending on the finish we want to achieve, we can choose one or the other.
It is one of the types of makeup brushes that varies the most.
Cat's Tongue : This is the most classic foundation brush. Its flat shape allows the product to be applied, achieving maximum base coverage.
Skunk or duo fiber : this type of makeup brush has a medium density, achieving a more natural finish to the base. It is very comfortable for fluid makeup bases.
Dense rounded or flat : this type of brush is very thick, allowing you to blend makeup perfectly without losing any coverage power.
2.    Powder, blush, or bronzer brushes
Brushes for applying powder products can also come in different forms, and choosing one or the other will depend above all on our tastes.
Rounded loose-haired : the classic loose-haired brush can be used for pressed or loose powders and applying blush or bronzer.
Depending on the size of it, it will be more suitable for powders (the largest) or blush (a little smaller).
Loose-haired angled : This type of brush is usually medium in size and allows you to apply blush or bronzer following the natural shape of the cheekbone.
Skunk or duo fiber : this brush is very versatile and is suitable for foundation and applying any powder product to the face.
It is beneficial for applying highly pigmented blushes.
3.    Concealer brush
Concealer can be applied with many brushes: a small cat's tongue brush, an eye smudge brush… even your finger!
4.    Eye shadow brush
Eyeshadow brushes have a flat shape and short hair, so they take the shadow pigment very well to deposit it on the eyelid and achieve intense pigmentation.
5.    Smudge brushes
Eyeshadow blending brushes are characterized by not having too much density and having slightly longer hair than eyeshadow brushes.
They are one of the types of makeup brushes that can vary the most from each other, and we can use one or the other depending on the type of blending we want.
Round and lose blending brush: the completely round blending brush allows us to blend large areas quickly. It's perfect for smoky on big eyes.
Flattened Blending Brush: The flattened blending brush at one end allows for more precise blending than the previous brush, as it takes up less space on the eye.
Pen type smudge brush: this  is the one that gives the most precision. Being small and ending in a point allows blurring in small areas (such as the lower eyelid) and with it. You can apply shadow in a particular way in the eye socket.
6.    Eyeliner brush
Eyeliner is a whole world; therefore, there are many different ways to do it. There are two essential brushes for lining:
Angled Eyeliner Brush: The Angled Eyeliner Brush is relatively easy to use, making it perfect for beginners. The beveled shape makes drawing the corner of the eyeliner a piece of cake.
Fine brush for eyeliner: these brushes are more precise than the previous one, allowing you to reach the torn area more easily.
7.    Lip brush
Lip brushes, unlike other types of makeup brushes, usually keep the same shape. Some are wider, others narrower, more or less long, but all are flat and small to allow outlining and filling in the lips.
Although we can classify them according to their shape and use, we must not forget that we can give them the service we want as long as we like the re-get. There are no rules in MAKEUP!