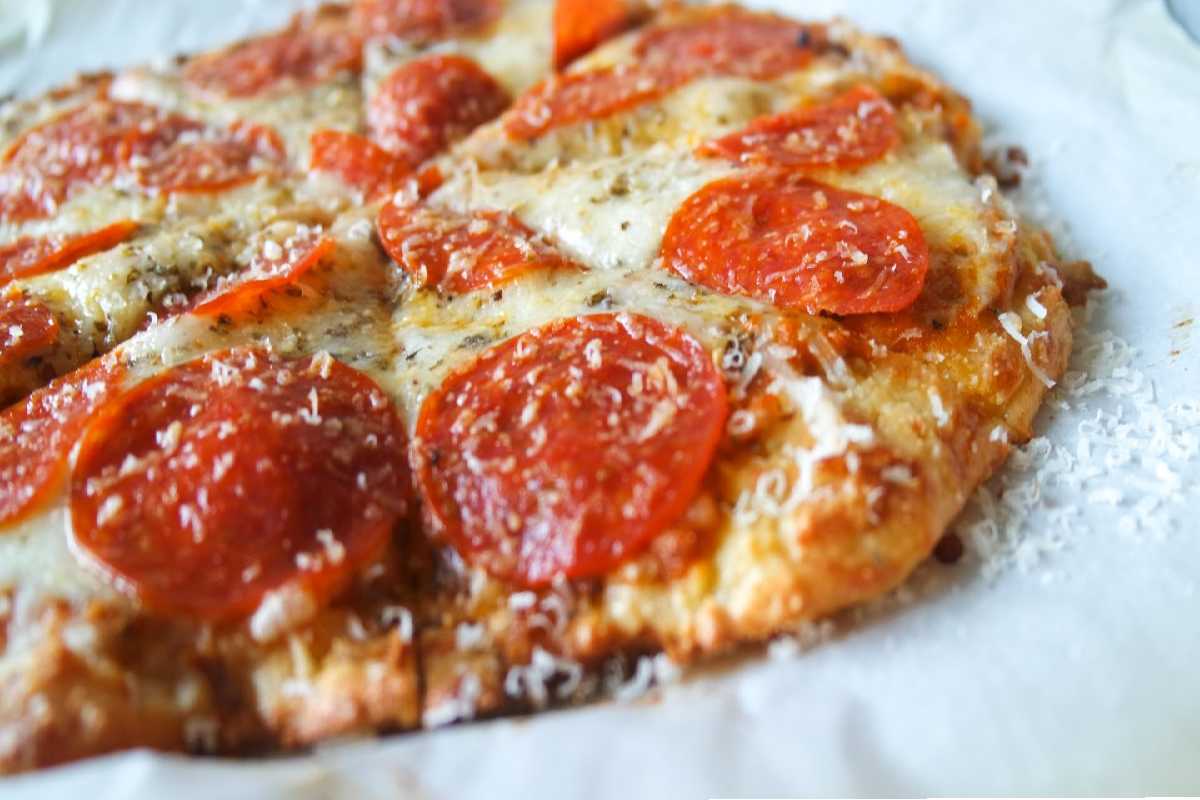 Pizza would have to be the top fast food if there were to be one. No matter what diet they adhere to, it's hard to meet anyone who does not like pizza. People who limit their carbohydrate intake or avoid them altogether are included in this. With this tasty keto-friendly recipe, you can make your own gluten-free pizza dough.
Ingredients For The Pizza:
1 1/3 cups of 140g coarsely grated mozzarella
0.5 cup of almond meal, 55g
2/batch of cream cheese
1 egg
80 ml (one-third cup) of tomato pasta sauce
40g (1/3 cup) sliced mozzarella
Four pieces of thin prosciutto
to serve: fresh basil leaves
Procedure
1. Put the cream cheese, almond meal, and grated mozzarella in a bowl that can go in the microwave.
2. Melt and blend in the microwave on HIGH (100%) for 1 minute, stirring halfway through.
3. Beat furiously with a wooden spoon while working fast to incorporate the egg.
4. Set the oven to 200/180 C with the fan on. Roll the "dough" between two sheets of baking paper to fit a 32 cm pizza pan.
5. Slide the dough onto the pizza tray with the bottom piece of baking paper still attached and the top piece of baking paper removed.
6. Use a fork to prick. Bake for 10 minutes, or until brown and puffy.
7. Pizza can be removed from the tray using the paper.
8. To cook the opposite side, flip back onto the tray. Cook for an additional 5 minutes, or until golden on top.
9. Add some tomato spaghetti sauce, then some sliced mozzarella.
10. The cheese has to melt in the oven for 3 to 4 minutes. Spread basil leaves over top and drape with prosciutto.
Your Pizza is ready to serve
Notes
For more texture, use cherry tomato pasta sauce. Use a gluten-free sauce if you require this to be gluten-free.
The base is so filling that you might not even want the extra cheese!
Storage Of Your Leftover Pizza
Pizza leftovers can be kept covered in the refrigerator. It can last up to a week without spoiling.
Pizza slices can be frozen for up to 6 months by placing them in a ziplock bag and storing them in the freezer.
Reheating:
You can either toast the slices on a nonstick pan or microwave them for 30 seconds each in a preheated oven (180C/350F).